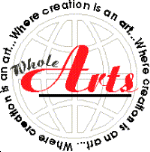 We are pleased to bring you a variety of services and products. Just press the marquee to jump to the page.
PSYCHIC INTERNET
: 11 Years Online - Readings by Email, Snail Mail, Phone, Fax
PSYCHIC REVIEWS
SYNTHONY
: Original Orchestral Music for Film, Television, Video, and Radio
MUSIC CONSERVATORY
: Comprehensive Music Education Resource on the Web
HARMONIC METRONOME
: A New Kind of Metronome for Rhythm and Pitch - Download Free Software
CONTRARIAN OUTLOOK
: A Free Weekly Stock Market Letter
VIBE THERAPY
: Vibrational Medicine Based on Subtle Energy Principles and Interventions Involving the Mind, Body, and Sprit Dimensions
ESSENCE OF WELLNESS
: Sports Massage, Acupressure Massage, Reflexology Massage, Aqua-Chi Footbath Equipment and Footbath Sessions.
TAHOE HEALTH TOUCH
: Rosemary B. Manning M.A. M.H. C.M.T.

WholeARTS, The Psychic Internet, Contrarian Outlook, Harmonic Metronome, and syNThony, are trademarks of WholeARTS and may not be duplicated without permission. Copyright © WholeArts 1995